Saturday night before the race I started to panic: I visited Hamburg's recently opened opera house Elbphilharmonie and nearly froze to death. The building is truly amazing with viewing platforms and awe inspiring architecture, inside and out. But the location is also extremely windy and despite the 8 degrees temperature it felt like zero.

The weather forecast for marathon Sunday said the same 8 or 9 degrees temperature, but even more wind. So I worried that my shorts, short sleeved top and thin running gilet means I am hopelessly underprepared for Hamburg's weather. At least I'd got a thermal hat to keep my head warm. On the other hand the forecast also said there won't be rain, unlike the day before and the predictions for the days after. Out of lack of real alternatives I made it to the start line in my shorts, short sleeved top and thin gilet, covered in one of those foil blankets, still worrying about the potential freeze horror lying ahead of me.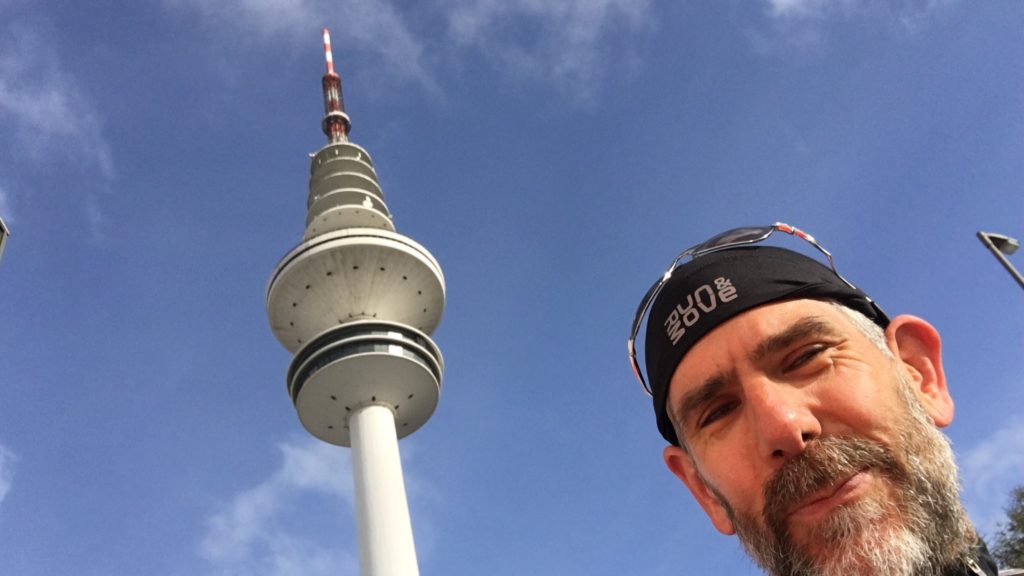 It came different: I did not only start to rain just in time when we started running, it also hailed and not only at the start, but also throughout the race. The little hailstones do get you, feeling like tiny needles piercing your skin with their icy coldness. To our luck each hail attack did not last for too long and once it was over, the simple absence of ice on you, made you feel warm. Really warm. Weird, right? The rain did also stop and even the sun came out a few times. But this constant thread of cooling down too much had an unexpected positive effect on my running attitude. I felt I simply can't afford going into my "let's see how it goes today" mode of motivation. I ran against the fear that at any time I might end-up next to the road in fetal position, shivering and shaking. So I ran faster than I thought I am abled to do and managed to do a new personal best! Yeah!! Only by 17 seconds, but hey it's a PB!!! 3:25:45. I am over the moon. And even having done Hamburg for the fourth time now and facing a moody weather even worse than London weather's (mostly undeserved) reputation, this marathon was a great event, with a lot of music, not only put there by the organisers, but also from the many balconies of residents that threw little cheering parties. There is a several hundert metres long tunnel part of the route, which was prepped up with light effects and sound boxes spread out all way through playing Eye of the Tiger. And then there was this attractive girl holding up a poster to runners saying "You are sexy" and when I read it she made eye contact and pointed to the words indicating it also applies to me!! Only in Hamburg. It might be rainy, has hail and weather that makes you wonder why anyone come up with the idea to have to 2 million metropole (Germany's second biggest) at exactly this place on earth, but Hamburg does rock. Big time.