One of the great things about running marathons is that it can be very social, while doing running itself is often a rather individual thing. When running the Frankfurt Marathon today I was feeling this connection with the running community more than usual. It was the 8th marathon I did with running mate Michael. Frankfurt is his home turf and to make it easier for me I was offered to join his company's running team. Some conference rooms in a hotel close to the start line had been booked and we had a great reception there, before and after the marathon. It was great to get one of their T-Shirts and feeling part of a bigger team. And it came quite handy that the company is huge, and the runners come from all over Germany (and the world?) which meant I was not sticking out as the one who does not really belong and could mingle, feeling part of the group. And there was the other thing: the chance to get on the podium and to win a price. Michael made me aware that all the fast runners dropped out this year and apart from one the highest estimated times were 3:30.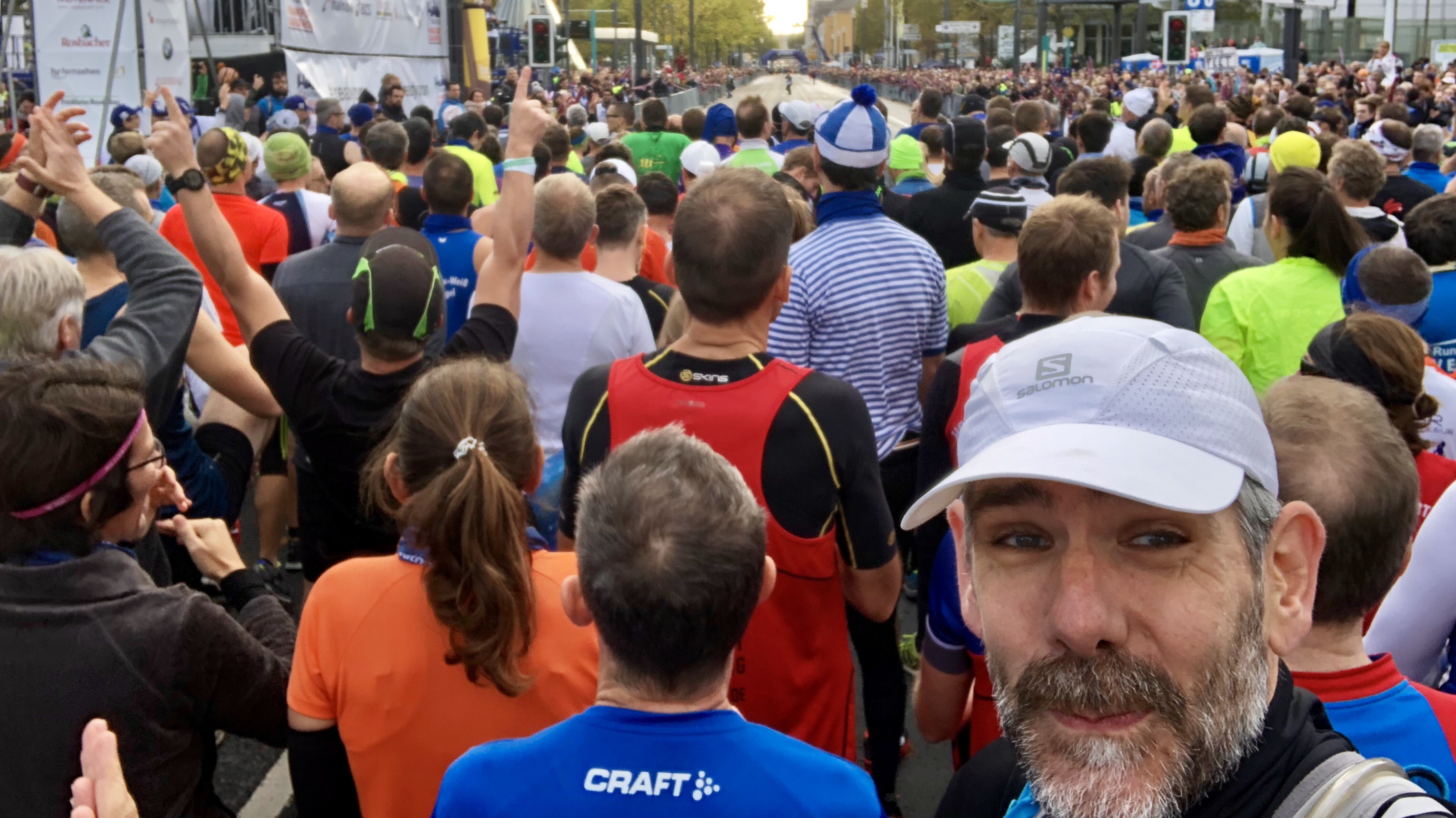 It meant I had a fair chance and when running I started hunting down my fellow runners with the same T-Shirt. So I ended up running next to Achim for a while. It is always great to make new friends on the way. Achim was the one who gave me a new boost at kilometre 33, when I started slowing down. He pointed out a strong looking couple in front of us saying, just follow them, they are good. So this is what I did. And it worked and I got some pace back. At one point I overtook Katrin from the vegan running blog bevegt.de. Katrin and Daniel run this (German) site and I listen to their podcasts, because I am interested in a carefree vegan diet. Well, they don't know that I am their friend and when I overtook her it was an awkward spot with incline, so I did not want to distract her and said nothing. But still, it was nice feeling "connected" even though she had no clue that I did. I ended up overtaking another fellow runner with the same T-Shirt and at some point even Achim had dropped back. So I entered the great Festhalle (Festival Hall) and did the last 200 meters on the legendary Red Carpet. Only in Frankfurt. It was like a big party. And my time was respectable too: 3:28:07. Enough for getting on the podium? I did not find out, because I had a flight to catch and could not stay long enough for the company's award ceremony. Anyhow, it was a great and unforgettable day with friends and that's was running marathons really is about.
Update from the day after: Michael informed me that I did make the second place! And I won a voucher, not sure for what though. But hey, this is the first time I won anything in a race.