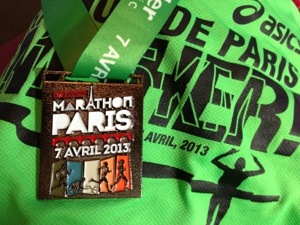 I went to my sister's house last night, showing off my medal to my nephew and niece. After the usual exchange of niceties, my nephew went straight down to business:
"What place did you do, uncle Roy?" he asked.
I gave a slightly nervous laugh, remembering last year's conversation about the London marathon, where I tried to get the point across that it does make sense to run a marathon, even if there is no chance of winning it and that it is not about beating others, but to compete with yourself. It seemed to be a very alien concept to a 7 year old boy. However I decided not to sugarcoat it this time and to say how it is.
"16,000th" I said with a hint of embarrassment.
"Out of how many runners?" he asked.
"37,000" I answered.
"But this is very good, uncle Roy, you beat 21,000!"
I didn't see this coming. Smart kid and not only because he managed to work out 37,000 minus 16,000 in virtually no time.