This is what night currently looks like in Tromso. Picture was taken around 11pm.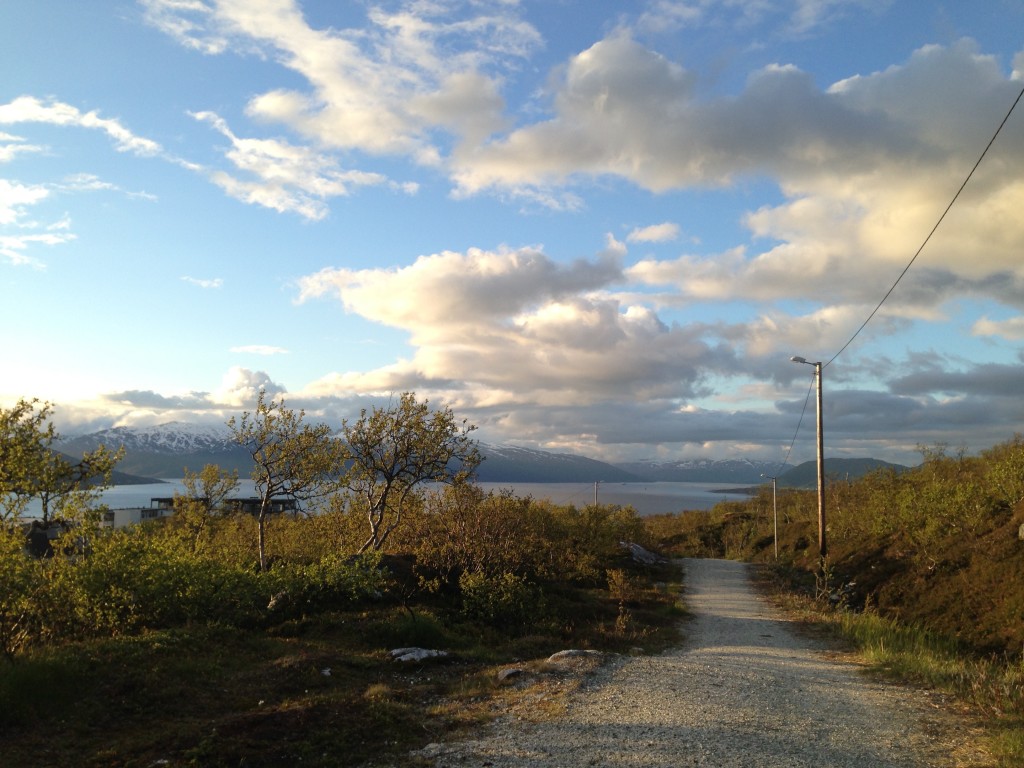 I arrived here yesterday and thought I'd make use of the time leading up to the marathon going for a test run. At night. To tune in to the whole midnight sun marathon thing. And what a tune in it was. Here the main points that I found out:
1. The midnight sun is really a sun. It is not the duskish or dawnish feeling I expected. It took me quite a while to find the right comparison. But then I thought it really feels like a sunny winter day, when the sun is out and shiny, but not very high at the horizon. You can feel the warmth in the cold. And yes, it was cold, which leads me to point 2.
2. It was cold, despite temperature around 13 degree during the day. It dropped quite a bit to 5 or 6 degree during night (it still feels weird to call it night, because it isn't). The marathon starts on Saturday 8:30pm, so I better get the running tights and an extra layer on and I must not forget my cap and sunglasses, which is the next point.
3. Because the sun is relatively low, but still quite strong, you need something to protect you from being blinded. There is no escape, if the sun is in front of you. So running during the midnight sun is not the same as running into a an orange lightish sunset or sunrise.
Apart from this I am surprised what constant day light does to you. When I finished my run at half 11pm, it still felt like a late afternoon and I did not feel like going to bed at all. I really  had to shut the curtains to simulate night in order to get sleepy. Today I am feeling nearly a bit jet lacked, despite having had enough sleep. But that is measured in hours, not in quality. However, it is a cool experience here in Tromso in the Arctic Circle and experiencing the 24 hours sun. I was told today it lasts for 2 month, before the sun sets again. Can't imaging living through the corresponding 2 winter months, where is no sun. But I am tempted to come back in winter anyhow, because I also learned Tromso is the ideal place for Northern Lights watching.