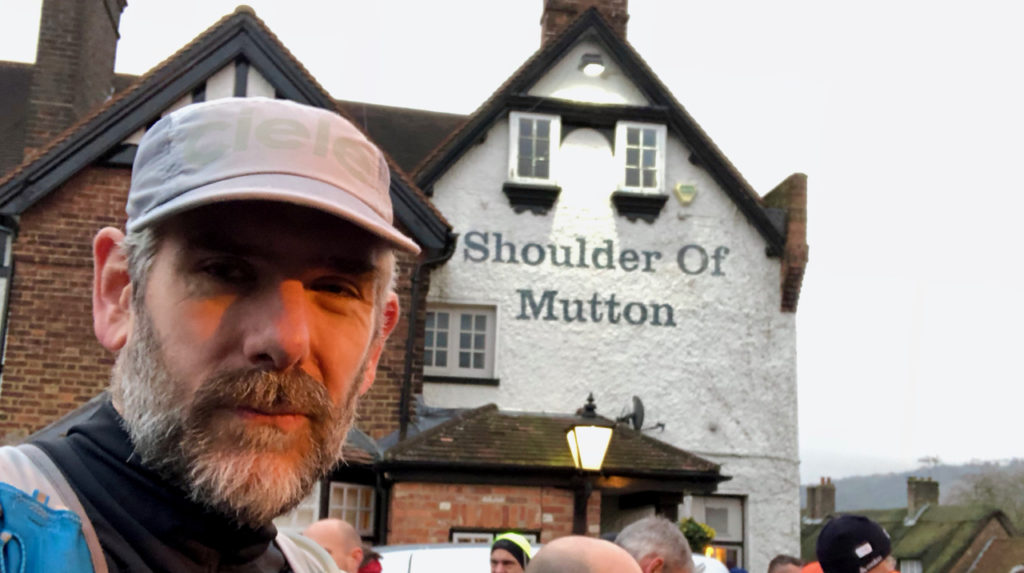 Here I stood in Wendover at the start line, 45 miles ahead of me and only little hope that I would actually finish this race, the Country to Capital Ultra from Wendover to Little Venice, London. My biggest concern was moving forward in cold temperatures for around 8 hours, getting eventually cold myself, especially when it turns out that I can't run anymore and have to walk. The man flu that spoilt my last two races in December was finally over, but still, it was not only until last week that my running had felt remotely back to normal. I had not thought I would make it to the start, but here I stood. The weather and temperature turned out to be the best possible scenario. After spending hours of overthinking what to wear, how to wear it and into what I could change if I cooled down too much, I think I finally got it: Long-sleeve woollen base-layer, with second, loose layer on top and wind resistant gilet over that. My hydration backpack had enough room for another wind resistant jacket and a very light and loose windbreaker with hood, just in case. I felt prepared as I ever would be, maybe the runners equivalent to a princess having to attend a royal wedding, finally happy with her choice of outfits. I was happy and positive. The organisation at the start was flawless and the runners around me seemed to be a nice bunch. And so we went. The first half leads through the Buckinghamshire countryside and it almost felt like home turf. I had done countless recce runs and two years ago even unofficially run the first third of the race supporting a very good friend. I enjoyed feeling confident about the way, while others messed around with a booklet of route instructions that are handed out to everyone. My respect to any runner who actually made it based on instructions only. In addition, I had familiarised myself more and more with this dynamic.watch app for my Garmin, where you can upload the route and see the way as a red line on your watch. This year's event even had a little diversion going on, the organisers made the new route available for download and I had it on my watch. Which really helped, because there was no other runner in front of me to follow and the alternate route lead along a busy road which felt intuitively so wrong that without the reaffirming red line I would have been more than worried. And then I looked behind and noticed that while none was in front of me there was a bulk of runners behind me. Whether they knew the route or just followed me I don't know, but it would have been a devastating thought leading others the wrong way. So all went well until we hit the canal, roughly the halfway point and then Check Point 3 at mile 25, with 20 more to go. I did start to feel tired, changed into the extra jacket, stacked up on my favourite energy gels (from GU, which were offered for free, GU being a supporter of this event), exchanged nice words with the friendly marshals, supporters and fellow runners and carried on.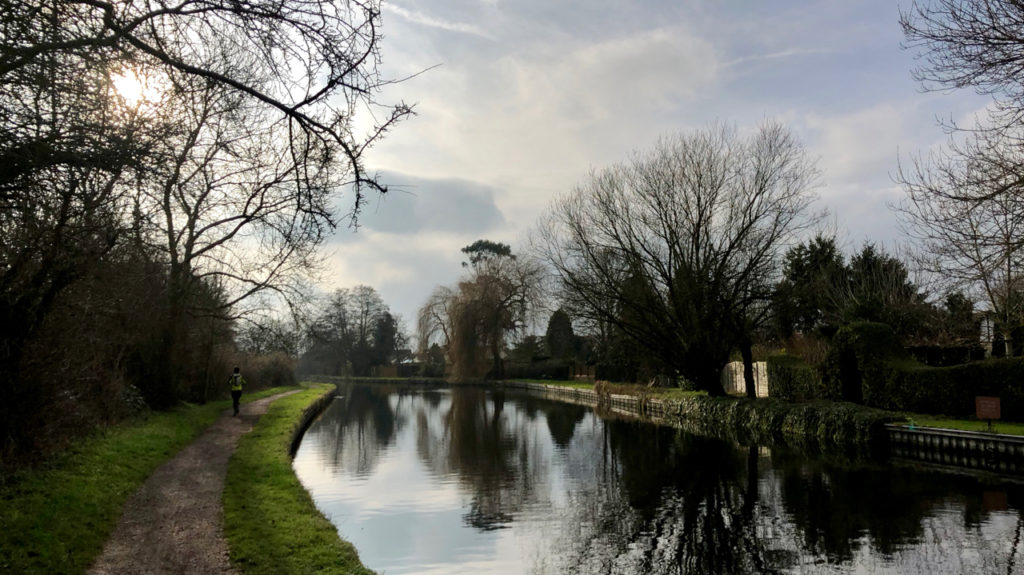 Suddenly the sun made an appearance over a nice stretch of the canal and everything had seemed to work so much better than I could have dreamed of. If felt like being on cloud nine. And then I fell. Not really, but metaphorically: From cloud nine down to… ehm… the majority of bad stretches of the Grand Union Canal I guess. What a horrible sight. I am still not sure what was the chicken and what was the egg. Fact is my running morale suddenly went downhill. I felt so tired that I abruptly stopped and walked. I was not injured or badly shaken, just, well, had enough. Other runners were passing by, one I remember saying how she hates the last 20 miles and that this canal is really soul destroying. Usually, I am quite resilient against bad environments affecting my mood and it was probably not the canal which caused this sudden shift, but it surely did not help. So I dragged myself along. I never got back into a proper running rhythm. I did not get cold either though, I had enough to eat and drink on me, but it was such a bore. My mind started to wander and the places it went to were dark and twisted: I should stop, this is not the experience I signed up for – even if I finish, it is almost a lie because I am so not enjoying it – am I progressing as a runner at all? – I probably could have done the same 5 years ago, walking along an awful canal, with so much littering, industrial decay and run-down corners wherever you look – but why would anyone want to do that? – and I am a rubbish runner anyway, bad biomechanics, too lazy to do proper training, not really progressing – I should retire, I should stop and retire from running – I will never run again in my whole life. I got my phone out looking for the next train or tube station, reading Facebook best-wishes of friends that I felt I am lying to, by giving the impression running an event like this is worthwhile. The negative thoughts continued to spiral, a proper running depression in the midst of an event, something I had never experienced up to this point and I still don't know why I actually carried on walking. Whenever I tried to get back into a jog my left knee started to hurt more and more, probably a physical sign of being a mental bad state. Eventually, I reached Check Point 5, the last one. After hours of feeling almost walking by myself (the canal stretch is not only ugly but also lonely) nice faces were talking to me and said only 6.5 miles left. In my head, thinking about 45 miles, it was 8 miles left, but it turned out the course is about 1.5 miles short. Somehow that simple turn in my favour gave me a final boost. I managed to get back to something that is worth to be called running and even my knee pain got a bit better. It got dark and I ran/walked the last miles with head-torch.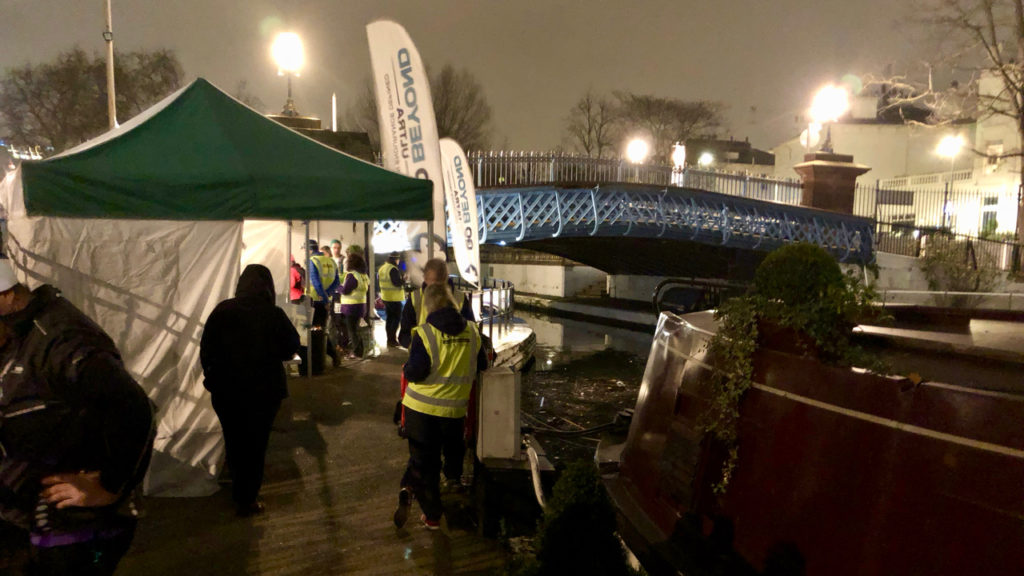 And so I made it. I really made it. It felt a bit surreal, especially after all the negative thoughts that I had been entertaining for hours. It is always great to arrive at a finish line, especially one that is right next to a canal behind a bridge with spectators cheering you and then getting the medal and a nice cup of tea. I felt like crying. I lingered a bit around to enjoy this moment as long as I could. The majority of runners had already finished. I came 184th out of 305, with a time of 8:37:05. I got quietly changed into fresh clothes and went off home, wondering what this event was all about and how my running future might look like. I did not feel euphoric or like a winner. Is there maybe another kind of battle that despite finishing I lost on the way?