I thought it would be nice to list all my marathons, with location, date, result, a short comment and links to relevant blog posts. So, here we go:
48. Athens (2nd time) – 12 Nov 2017 – 3:50:11
It was great to do Athens again and I don't even know where to start describing the awesome feeling literally running through marathon history. Spectacular.
Blog post: Authentic Athens Again
47. Frankfurt (2nd time) – 29 Oct 2017 – 3:28:07
The Frankfurt Maraton is a fun event. Good natured party people make sure you enjoy all parts of it. First time I won something: 50€ voucher for P&G Running team's 2nd place!
Blog post: Frankfurt With Friends
46. Venice – 22 Oct 2017 – 3:34:56
Venice is one of its kind: an almost fantastical place that, despite not having much space, manages to pull off a magical marathon event. The last mile has never felt better.
Blog post: Devine Venice
45. Munich – 8 Oct 2017 – 3:29:07
Giving Munich a go did not come easy, but the place and race had been nothing but nice to me. Great experience, lovely people and a lot of heart, plus a heart-shaped medal.
Blog post: München
44. Berlin (2nd time) – 24 Sep 2017 – 3:33:02
Back to Berlin. Running through this amazing city and through Brandenburger Gate for the finish is still as great as I remembered. Despite muggy weather. It was also Berlin's 44th!
Blog post: The Berlin Greatness
43. Fränkische Schweiz Marathon – 3 Sep 2017 – 3:25:59
Small and nice, close to Nuremberg (Germany), up and down a closed off A-road through the scenic Franconian Switzerland's landscape. And my parents were there, 1st time.
Blog post: Franconian Switzerland Marathon
42. Northampton (England) – 22 Jul 2017 / 1. Ultra – 39.3 miles – 6:33:27
My first ultra distance and first race that I ran in laps. 12 in total. What I thought could be a bit dull, turned out to be a great event organised by the SVN Club. A really nice bunch.
Blog post: The Six Hours Challenge
41. Prague – 7 May 2017 – 3:40:05
Marathon highlight in a city that is great, relaxed and friendly. The Old Town and crossing the Charles Bridge made me feel a bit like running through a Lord of the Rings movie set.
Blog post: The 1st May Week Double Feature
40. Milton Keynes (England) – 1 May 2017 – 3:36:49
Weird English dystopian town maze running feeling, but nice finish in the football stadium and family and friends around to run with and support me. I love the cow medal and shirt.
Blog post: The 1st May Week Double Feature
39. Hamburg (4th time) – 23 Apr 2017 – 3:25:48 – new PB!
One of the best running experience against the odds. Hail and rain at the start changed to sunny spells and enough motivation to run fast. Which resulted in a new PB!
Blog post: Rain and Hail in Hamburg
38. Rome – 2 Apr 2017 – 3:35:48
It was like running through the setting of a historical drama, plus dramatic rain and thunderstorm. Great event in a great city. Biggest challenge: The medical certificate.
Blog posts: The Italian Medial, Roman Rain
37. Jerusalem – 17 Mar 2017 – 4:05:22
Special for various reasons: stunning location packed with history, religion and other excitements, plus I missed the start by 50 minutes, which was an unexpected twist.
Blog posts: Oh my…, The Jerusalem Specialness, Jerusalem Results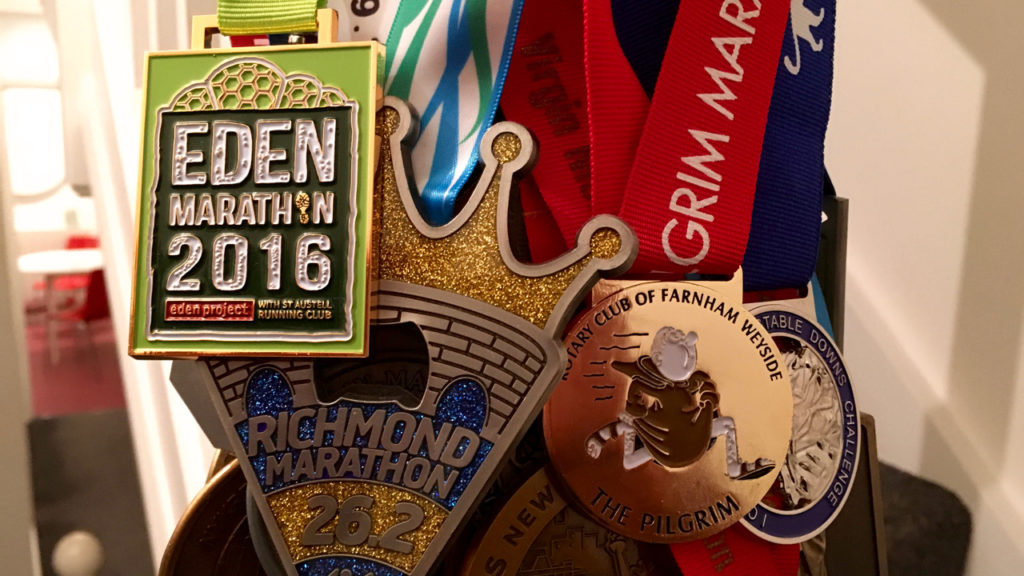 36. Eden Project (Cornwall) – 16 Oct 2016 – 4:19:59
This one is an absolute stunner, loved every minute of it and especially the last mile downhill towards Eden. Big thumbs up for organisation and marshalls.
Blog posts: The Day Before Eden, Running To Eden
35. Richmond (London) – 18 Sep 2016 – 3:58:01
The Richmond Marathon seems to be the little brother of the main London one. It is lovely to run through Kew Gardens and along the towpaths up to Kingston. Perfectly organised.
Blog post: Richmond – London's Little Brother
34. Farnham (England) – 11 Sep 2016 – 4:33:06
Glorious event on a glorious day: The Farnham Pilgrim Marathon was a great trail race with some nasty hills and a lot of friendly fellow runners and spectators. Recommended.
Blog post: Farnham Pilgrim Marathon
33. Dunstable (England) – 4 Sep 2016 – 4:38:11
This trail event is called Dunstable Downs Challenge and a challenge it is: You need to run up and down the Downs with map and route description to find your way. It was great!
Blog posts: The Twist, How Not to Get Lost in Dunstable
32. Salisbury (England) – 14 Aug 2016 – 4:54:54
A nice hilly trail running event where you pass the Salisbury Cathedral on your last miles. My first spontaneous marathon without preparation and proper running two months before.
Blog post: Suffering in Salisbury
31. Edinburgh – 29 May 2016 – 3:36:44
Visiting Edinburgh and running a marathon is a great experience. The marathon itself is not one of my favourites though and not as fast as the organisers might make you think.
Blog post: Edinburgh Marathon Review
30. London (2nd time) – 24 Apr 2016 – 3:26:02 – new PB!
My absolute highlight marathon event. The London Marathon is like the biggest street party ever and running a PB here, feels to me like cracking the jackpot.
Blog post: London – Jubilee with PB
29. Brighton – 17 Apr 2016 – 3:31:17
I love Brighton and its seafront and running there was a true delight. Very friendly people and spectators, too. Third best time to date.
Blog post: Brighton – Kissing The Medal
28. New York – 1 Nov 2015 – 3:39:35
Brilliant running event, one of the best finishes I had and second-best time in 2015!
Blog posts: NY Start Adventure, The New York Madness
27. Berlin – 27 Sep 2015 – 3:49:50
Completed it despite previous weeks of knee pain, it was an awesome event.
Blog posts: Good Morning Berlin, The Berlin Awesomeness
26. Capital Challenge Marathon (London to Hertford) – 28 Aug 2015 – 4:00:42
Came second, despite dodge knee. Great event at my doorstep. Loved it.
Blog post: Capital Marathon Challenge – Results
25. Midnight Sun Marathon (Tromso, Norway) – 24 Jun 2015 – 3:26:50 – new PB!
Truly one of its kind – running during the Midnight Sun. Brilliant experience and a new PB after 18 months.
Blog posts: Night Run in Tromso, Feeling Good in Tromso, PB-ing in Tromso
24. Copenhagen – 24 May 2015 – 3:45:13
Loved the city and the course. Highly recommended city marathon. Friendly folk.
Blog post: Copenhagen Chilled
23. Hamburg (3rd time) – 26 Apr 2015 – 3:58:19
Running it despite a dodgy hip made it a torture. Probably my most painful marathon to date, but still worth it.
Blog posts: The Hamburg Experience, Hamburg Photos
22. Barcelona – 15 Mar 2015 – 3:40:15
Great atmosphere in an iconic city. Loved it. But got a bit over ambitious with trying to stay under 3:30. As a result, I burned out early and had nothing left for the last 5 miles.
Blog post: The Barcelona Crumble
21. Las Palmas (Gran Canaria) – 25 Jan 2015 – 3:45:10
The island is great, however, Las Palmas in winter is a bit boring and the route was made out of two laps, which is never too great. But it was fun running with a beach and seaside backdrop.
Blog post: This was the Las Palmas Marathon
20. Lisbon – 5 Oct 2014 – 3:44:11
Lisbon is a city worth a visit and combining it with a marathon is great. But the route itself is mainly along the sea and only a two miles go through the city centre.
19. Luxembourg – 31 May 2014 – 3:59:50
This one starts Saturday night and goes through the city of Luxembourg while loads of people out partying and cheering. It's a lot of fun and makes you forget about all the hills.
Blog post: Party Marathon Luxembourg
18. Hamburg (2nd time) – 4 May 2014 – 3:33:03
Hamburg, the second time around. It claims to be the second biggest marathon in Germany and is definitely an event to remember and to do again.
17. Freiburg (Germany) – 6 Apr 2014 – 3:38:40
Small local one with two laps. Freiburg is a lovely small town and here the weather is nearly guaranteed to be nice. Maybe even a bit too warm.
16. Pisa – 15 Dec 2013 – 3:28:30 – new PB!
One of my favourites, starting at the leaning tower and then it's going out of town through lovely Tuscan fields and even along the seashore. Small event, but a great experience.
Blog post: Pisa was perfect
15. Dorset (England) – 7 Dec 2013 – 5:48:44
It was running through paradise with an evil twist 😉 The toughest marathons I've done and at the same time one of the most beautiful ones. The weather was great, which surely helped.
Blog posts: No Pictures from Paradise, Worst time, best experience
14. Florence – 24 Nov 2013 – 3:33:12 – new PB!
Great place, great run. Absolutely loved the experience. Did a new PB despite the cobblestones you have to cope with when running in the town centre.
Blog post: Florence – the perfect marathon
13. Istanbul – 17 Nov 2013 – ~3:37
The only marathon that goes over two continents. That must count for something, eh? I loved the city and the race, very special.
Blog post: The Istanbul experience
12. Frankfurt – 27 Oct 2013 – 4:04:59
I did this one from start to finish with my friend Michael. The Frankfurt marathon has a great sense of partying to it, especially with the finish on the red carpet.
Blog posts: At Frankfurt Festhalle, Es geht looohos!!!, Red carpet
11. Amsterdam – 20 Oct 2013 – 3:42:38
I loved the start and finish in the Olympic stadium from 1928. The route itself was more running through countryside than Amsterdam. Nice, but not much of Amsterdam.
Blog posts: I AMsterdam, In the Stadium, And back
10. Budapest -13 Oct 2013 – 3:39:51
It claims to be the only marathon that passes not one but two UNESCO World Heritage sites. Loved this one and Budapest is a great place to visit.
Blog posts: Budapest Marathon warm-up, Thoughts from the start line, Budapest Marathon Recap
9. Warsaw – 29 Sep 2013 – 3:46:58
Warsaw is a good place to go. The organisation was solid. Liked it.
Blog posts: Stadion Narodowy, Start in 10 minutes, About 3 hours 45 minutes later…, And my shirt says…
8. Jungfrau (Switzerland) – 15 Sep 2013 – 5:07:31
One of its kind: Running up a Swiss mountain – great. Well, only the last bit is slightly insane, the first 25 kilometres are flat and fairly easy. Highly recommended.
Blog post: Impressions from the Jungfrau
7. Essex (England) – 12 May 2013 – 3:39:42 – new PB!
Lovely and small marathon event. Liked the route and location. A lot of heart and very well organised.
Blog posts: Halstead & Essex, Halstead is great
6. Hamburg – 21 Apr 2013 – 3:54:34 – new PB!
Being a born Hamburger (pun intended) I loved to come back to my roots and experience this great city by running through it. My second under 4 hours marathon, awesome!
Blog posts: Start line is finish line, Fernsehturm
5. Paris – 7 Apr 2013 – 3:58:30 – new PB!
Having not managed to go under 4 hours in 2012, this marathon was about to change it. If you like Paris you will love this one.
Blog posts: Champs-Élysées, Arc de Triomphe, Beating 21,000
4. Athens – 11 Nov 2012 – 4:17:39 – new PB!
Can it get more iconic? Running from the village of Marathons to Athens along the route the Marathon legends are suggesting. It is a must for every true marathon fan.
Blog posts: Start Line, Finish Line
3. Coniston (Lake District, England) – 1 Jul 2012 – 5:26:18
I loved this event. My first trail run and the first one where I buddied up with friends. Well organised, friendly marshals, only a bit of a hassle to travel to and sort out accommodation.
Mentioned in blog post: Sinking into Oblivion
2. London – 22 Apr 2012 – 4:39:43
Running London and doing it for the NSPCC was a dream come true. The support of all the people and spectators was insane and I loved every bit of. Despite a constant struggle with knee pain.
Blog posts: Can I win it?, And the time is…
1. Tiberias (Israel) – 12 Jan 2012 – 4:21:58
My first marathon ever, suggested by a friend who lived in Westbank at this time and organised stuff. An unusual first one, but very flat and the weather was ideal.
Blog posts: I failed, kind of, Reflections